Azpikoetxea is a unique and charming farmhouse built in 1700, located halfway between Pamplona and San Sebastian. Our house is rented in its entirety and can accommodate 10-12 people in its 300 square meters, spread out over 5 double rooms, all with a full ensuite bathroom, one accessible to disabled persons, a kitchen and a living room with a fireplace, plus a terrace and garden with tables and a barbecue.
WHAT YOU WILL FIND IN AZPIKOETXEA?
UA 4-star cottage.
Accessible housing. We have a room with an accessible bathroom on the ground floor and common areas without architectural barriers.
We are dog friendly, and you can bring your pet along to enjoy the house as any other. Just let us know when making the reservation.
Wifi internet access in all rooms.
A cosy house in the environment of an undiscovered paradise.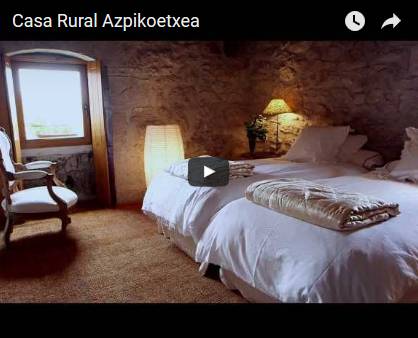 RESERVATIONS AND PAYMENT METHOD
Reservations can be made via internet, by telephone, or by mail. The reservation will be deemed completed when confirmed in writing by email. To reserve, you must make a minimum deposit of 30%. The rest will be charged at key delivery.
CANCELLATIONS
Our cancellation policy is as follows: if you cancel the reservation up to 30 days before arrival, we will refund 100% of the deposit. If you cancel between 30 and 15 days before arrival, we will refund 50% of the deposit, and if you cancel less than 15 days in advance, we cannot refund any portion of the deposit.
ARRIVAL
We do not have an arrival or departure schedule; however, when there is another group that will occupy the cottage, you will have to leave the lodging before 12:00. We are very flexible and try to adapt to your needs to the extent that our occupant schedule allows.
SERVICES AND CONDITIONS
The house comes clean, with bed and bath linens and kitchenware. You will have cleaning products at your disposal and firewood included in the price. We expect you to treat the furnishings with care and attention. Moreover, the house is not equipped to host parties with loud music, such as bachelor parties, that may disturb other villagers; therefore, they are totally prohibited. Smoke inside the house is not allowed either.
Azpikoetxea will not be liable for any direct or indirect damage that occurs during your stay in the house, including personal injury or damage caused by fire, theft or criminal behaviour, nor will it be responsible for any problems related to energy, water, internet or TV outages.
As far as we are able to, we will try to make your stay perfect, and we are at your disposal to inform you of the activities and resources offered by the area and its surroundings. We await your arrival, and we would love to know your opinion, once you have enjoyed your stay.
GENERAL CONDITIONS OF CONTRACT AND USE FOR AZPIKOETEA COTTAGE